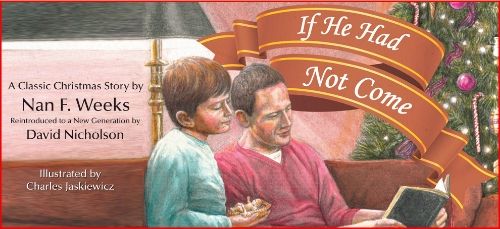 If He Had Not Come
is a beautiful Christmas story sharing about the importance of Jesus' birth and what life would be like if He had not come. This classic Christmas story written by Nan F. Weeks is being reintroduced by
David Nicholson
to a new generation. The absolutely beautiful illustrations are done by Charles Jaskiewicz.
I was told this story is best for children ages 6 and up, but I think younger children would even enjoy listening along with their older brothers and sisters. Children are never too young to start learning the true meaning of Christmas.
You can purchase the hardback book for $18.95 or get the e-book for only $3.99. I received the hardcover book and it is absolutely beautiful - you'll definitely want to purchase the hardcover copy!
In
If He Had Not Come
, young Bobby discovers what life would be like if Jesus had never come into the world. Bobby goes to bed on the night of Christmas Eve just like any other real life child does - thinking of all the presents he'll get to open on Christmas morning. Only in this story, when Bobby wakes up things aren't as they should be. Everything that was once a familiar part of his life is missing. Even Christmas!
Walk through the pages of this wonderful Christmas story with your children to see how Bobby discovers that the very best Christmas present ever given was not packaged with wrapping paper and bows and left under the tree, but was a baby named Jesus, Who lived and died for the sins of the world, Who offers the free gift of salvation, and Who lives inside his heart.
If He Had Not Come
is different from other Christmas stories in that it actually addresses the question posed from the title of the book. What would life look like if Jesus had not come to Earth? In addition to the Gospel message that you'll find inside this book, there are also the story's end notes and discussion questions and activities that will make a wonderful resource for parents, grandparents, and Sunday School teachers seeking to enrich the Christmas experience for children. This book can be pulled out at Christmases for years to come! I know it will be a part of our Christmas tradition each year now. What better way to keep the focus on Jesus?!
My son and I read
If He Had Not Come
one day in our homeschool as a reading activity. There was one part in the beginning of the story when it said, "Bobby didn't like going to bed.", and Caleb shouted out, "Amen!" I couldn't help but to stop and laugh!
When we finished, I asked him what he thought of the book. Here is his response:
Jesus is showing us how it would be without Him. The world would be in chaos. -Caleb, 14 years old
That is so true. Yes, the world is pretty terrible even now, and it is only going to get worse in my opinion. That is why I am so thankful that Jesus DID COME and that HE LIVES IN MY HEART. I'm so thankful that He lives in my husband's and children's hearts too. We can shine His light in this dark world until He returns for us. We have this precious gift of salvation available only from Jesus that we can share with others.
Let's help others discover the true meaning of Christmas like Bobby did in
If He Had Not Come
. It will be the best Christmas present they will ever receive!
You will find
a special gift
from David that you can use to help you with your children who are ready to accept the most precious gift they will ever receive. Receiving this most special gift is as easy as A-B-C! I would love to hear if your child accepted this free gift, so please leave me a comment below!
You'll definitely want to add
If He Had Not Come
to your Christmas reading list in the month of December as you help your children to focus on the true meaning of Christmas.
Read more reviews of
If He Had Not Come
from the Schoolhouse Review Crew by clicking on the image below. Check out the book's
Facebook
page too!