The great debate of public school attendance is a hot topic these days among evangelical Christians, so when the opportunity came to do a review for the DVD
IndoctriNation
as part of the 2015 TOS Review Crew, I immediately requested to be a part of the review. I'm so excited to be back on the Crew and to share with you my first review of this year!
IndoctriNation
, produced by
Great Commission Films
, is a captivating documentary/testimonial film in which Collin Gunn, a Scotland born homeschooling father of seven, is traveling around the United States on a yellow school bus with his family on a quest to understand the origins and social impact of the public education system in the USA. Seeking to answer the question of whether or not our public schools are an educational "neutral zone" or if they are seeking to undermine the influence of the Church and the family unit, Collin shares compelling interviews with teachers and administrators of the various public schools, as well as his interviews with parents and various "whistle-blowers", that he has met during his journey across the United States of America.
This powerful quote is in the opening of this film about public schools in America:
"America's future is being shifted and remolded through our public school system. Tomorrow's borders and leaders are being guided and instructed in today's classrooms. But whose doctrine is being taught?" ~Collin Gunn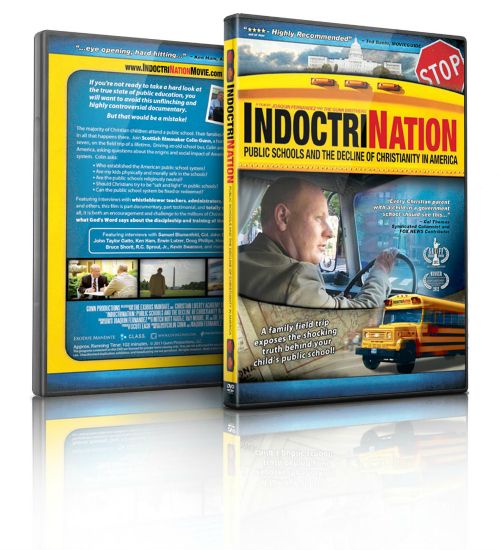 Vocabulary.com
defines indoctrination as teaching someone to accept a set of beliefs without questioning them. Sadly, this very thing is going on in our public schools across America as our children are being taught daily by pro-choice secularists, evolutionists, atheists, and now the list has grown to even include child molesters. Don't get me wrong, there are still some wonderful school teachers and principals in our public schools, but this review is focusing on the threat that continues to cast a dark shadow over America's public schools that Collin addresses in
IndoctriNation
.
It's a threat that has sparked a national debate among evangelical Christians all over America. The debatable question that evangelical Christians are asking is this:
"Should we protect our children by withdrawing them from the public schools or should we leave them in the system to try to influence the schools for the better?"
Check out this short clip between two well-known pastors that stand on opposite sides of the debate as well as other shocking scenes from the film about what is going on inside of the pubic schools of America and the indoctrination of the children who attend:
My Opinion of IndoctriNation
I watched this DVD alone because of the content which I didn't consider to be suitable for my son at this time. There is a content warning at the beginning of the DVD. Please be aware of this before you sit down to watch it. If you have younger children, make sure they are not around when you are watching because of some of the subject content that may not be suitable for young ears.
Subject content may not be suitable for young viewers.
If you are a public school parent, I highly recommend the viewing of this DVD to see what's really happening in the public schools of America and with your child's public education. Kids face so many obstacles in the pursuit of their education in a public school - school bullying, school violence, and indoctrination of beliefs that are hidden within the new common core curriculum to name just a few.
If you are a homeschooling parent who is contemplating placing your child back into your local public school, you really must watch this DVD.
IndoctriNation
will remind you quickly why you made the wise decision to homeschool (see list of reasons I gave to public school parents above). Is homeschooling a sacrifice? Yes! Are there hard days in homeschooling? Absolutely! But you are not alone in your homeschooling journey. After viewing this film, I would also recommend contacting some of your homeschooling friends for support and encouragement. Take a homeschooling break if you need to and just do some learning through real life activities and some field trips. Check out my
Homeschool Unit Studies board on Pinterest
to get some ideas on unit studies that can be a nice change of pace for your homeschool. Most of all, I would encourage you to pray for yourself, your child, and your homeschool. Go to God's Word and find encouragement and strength for your homeschool journey. Here are
twelve encouraging Bible verses for homeschooling moms
that I found for my family. I hope they will be a blessing to your homeschooling family too!
IndoctriNation
is available in English and Spanish. DVD's in Russian, Chinese, and Korean are in the works at the time of my review.
You can connect with Great Commission Films (
IndoctriNation
) on the following social media outlets:
Check out other reviews from Crew members by clicking on the image below.