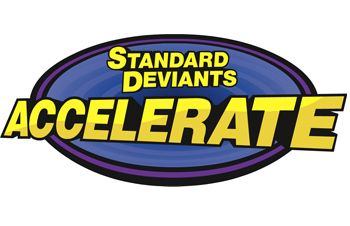 Standard Deviants Accelerate
is an online educational teaching tool available for use from ages 8 to adult. I received a full annual subscription for this review to all of their courses in the
Standard Deviants Accelerate Homeschool Courses
to use in our homeschool.
There are fourteen courses available for grades 3 and up:
Arithmetic - Grades 3+

Fundamental Math - Grades 4+

Earth Science - Grades 6+

Nutrition - Grades 6+

Algebra - Grades 7+

Biology - Grades 7+

Chemistry - Grades 9+

English Composition - Grades 9+

U.S. History - Grades 9+

AP Biology - Grades 11+

AP Chemistry - Grades 11+

AP U.S. Government & Politics - Grades 11+

AP U.S. History - Grades 11+

AP English Composition - Grades 11+
You and/or your child will need an email account to set up an account with Standard Deviants Accelerate. This homeschool resource is entirely online so you will need an internet connection and either a computer, laptop, or ipad.
The cost for regular courses is $99 per year or $24.95 per month for one student. AP courses for one student are $14.95 per month.
You can connect with Standard Deviants Accelerate on the following social media outlets:
How We Use Standard Deviants Accelerate
I used the Arithmetic course from Standard Deviants Accelerate in our homeschool four days a week with my son. This was a terrific supplement to our math lessons!
I loved everything that was available to use:
Video Lessons
Review Activities
Quizzes
Tests
My son can watch the lesson and do the work assignments freeing me up to get ready for our next subject lesson. I love how the material is broken down into manageable pieces so that it does not overwhelm my son. Each lesson takes between 15-30 minutes to complete. My son loves the fact that he can do his math work online! The online instructors are young adults who present the lessons in a fun and humorous way through the online video. This is also a big plus in my opinion because it keeps my son's attention in a subject that can be "boring" to him. Another plus is that my son can watch the videos more than one time if he doesn't understand a concept and needs to review it again.
There is a student portal as well as a parent portal within this online educational teaching tool. Navigation is very easy for both the student and the parent. I love that the grading is automatically done for me!
Great news! You can get a
6-month FREE trial
for full access to all 14 courses from Standard Deviants Accelerate. Sign up now for a parent account with up to 4 students! This offer is available until November 15.
Please click on the image below to read more reviews from the Schoolhouse Review Crew for Standard Deviants Accelerate.