FishFlix.com
is a great place to find Christian and family movies! As a Christian family, my husband and I are very careful about the movies we allow into our homes. We want to teach our children the importance of guarding our hearts by what we allow our eyes to see and our ears to hear. When the opportunity came up on the Schoolhouse Review Crew to do a review with FishFlix.com I was very happy to participate! I chose to review
Torchlighters: The John Wesley Story
in our home.
FishFlix.com has many DVD titles to choose from, including Blue-ray. Movie categories include:
$5 Christian DVDs
Apologetics and Creation
Biblical Movies
Biography
Children's Movies
Christian Comedy
Christian Documentary
Christian Family Entertainment
Christian History
Christian Living
Christian Movies on Blue-ray
Christmas Movies
Educational
End Times Prophetic
Evangelistic Movies
Family Bargain
Fox Faith
Music Videos
PureFlix Entertainment
Spanish Christian Movies
Sports Film
Wanderlust Films
When Calls the Heart
When you sign up for their
newsletter
, you will get a 10% off coupon.
Family Movie Night
Our family watches a lot of G and PG movies since there isn't much on T.V. that is appropriate to watch. We have built up a great movie collection in our house. We had a family movie night to watch Torchlighters: The John Wesley Story. Family movie nights always include popcorn, candy, and lights out so it feels just like we're in the theater!
You can also watch the DVD on your laptop computer or in your car if you it's equipped with a portable DVD player. This faith hero movie would be great entertainment on the road for the kids while traveling on your summer vacation.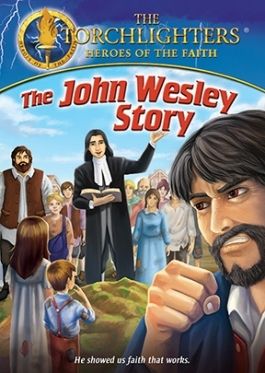 I love sharing real life faith hero stories with my son! Of course, I won't tell you all about the story, but I can tell you that also included on the DVD is bonus material such as a 51 minute documentary "The Faith that Sparked the Methodist Movement", the rest of the titles included in the Torchlighters series, a clip from The Voice of the Martyrs, and Study Guides. The teacher guide is 23 pages and the student guide is 25 pages.
These bonus items can only be accessed from your computer. For a Windows computer, double click on "My Computer" and if you have a Macintosh, the disc will appear on your desktop.
Here is a picture of the table of contents for the student study guide.
Student Study Guide for Torchlighter: The John Wesley Story
Language selections for viewing include English and Spanish. Subtitles are also available in English and Spanish. With the subtitles, you have the choice to this feature on or off.
Our kids need to hear these stories of real life faith heroes! Give them real heroes to look up to and imitate such as John Wesley.
You can connect with FishFlix.com on the following social media outlets:
You can read more TOS Reviews simply by clicking on the image below.