FishFlix.com
offers quality Christian DVDs that you can enjoy watching with your whole family! As a team member of the Schoolhouse Review Crew, I recently had the opportunity to select a DVD from FishFlix.com and watch it with my family. I chose
Faith of Our Fathers
for this review.
Faith of Our Fathers DVD
My 15 year old son is very interested in history, and more specifically, the history of wars. Naturally I chose for my review the
Faith of Our Fathers
DVD because I knew it would be something that he would enjoy watching since it was about fathers who served together in the Vietnam War.
Here's the movie's description from Fishflix.com:
"With the Vietnam War raging in 1969, two young fathers report for duty. A man of great faith and a doubtful cynic. About 25 years later, their sons, Wayne and John Paul played by David A.R. White and Kevin Downes, meet as strangers. Guided by handwritten letters from their fathers from the battlefield, they embark on an unforgettable journey to The Wall, the Vietnam Veterans Memorial in Washington, D.C. Along the way, they discover that the devastation of war cannot break the love of two fathers and their sons."
I was interested in watching this movie too because my Dad was a Vietnam veteran. He never talked to me about his experience in the Vietnam War expect for one time in my adult life. He told me his coming home story and I'll never forget it. My Dad suffered from nightmares and PTSD as a result of fighting in the Vietnam War. His sacrifice and service to our country is what makes him my ultimate hero.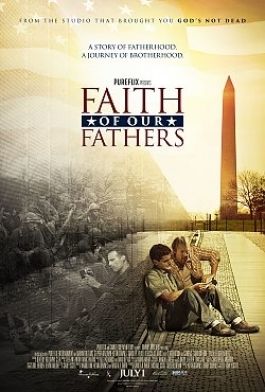 The main characters of Faith of Our Fathers are John Paul and Wayne. Their fathers were friends who served and died in the Vietnam War. John Paul finds a letter from his dad as he is going through some of his mom's boxes. Since John Paul doesn't know much about his father, he sets out to find the man mentioned in his father's letters in hopes of learning more about his father. He finds the man's son, Wayne. John Paul is a man of faith, and Wayne is a very angry and cynical man. Together they travel to Washington, DC to visit The Wall. As they make the journey, they read the letters sent home during the war from Wayne's father. It's through these letters that John Paul and Wayne get to know their fathers. They also learn through the letters what faith is all about.
If there are any Duck Dynasty fans out there, Si Robertson has a brief part in this movie! Be ready to laugh and cry while you watch Faith of our Fathers. In case you're wondering, the movie is rated PG-13 for brief war violence.
My Opinion of FishFlix.com
Fishflix.com is an online Christian movie store that has a great variety of movie selections that are safe for your whole family! There's not much available these days on T.V. or in the movie theater for a Christian family. I'm so glad to have FishFlix.com as a resource for family friendly entertainment! If you've never heard of them, I highly recommend heading over to their website and taking a look at all they have to offer! You will not be disappointed! FishFlix.com might even become your one-stop source for Christian movies!
Be sure to follow FishFlix.com on the following social media outlets so you can get their updates:
Read more reviews from the Schoolhouse Review Crew simply by clicking on the image below.