Institute for Excellence in Writing offers excellent resources for homeschooling parents to use with their kids in the four areas of language arts: listening, speaking, writing and reading.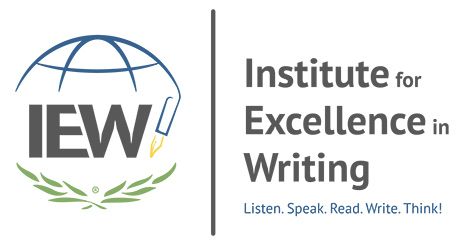 I'm excited to bring to you today this review for the
Institute for Excellence in Writing
Resource Set which includes the
Timeline of Classics
,
Teaching with Games Set
, and
A Word Write Now
.
IEW Resource Set Products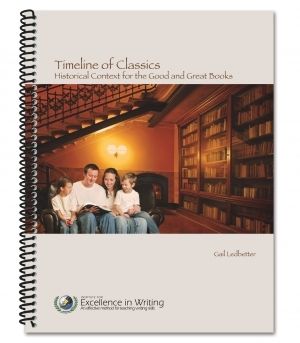 The Timeline of Classics: Historical Context for the Good and Great Books
is a chronological index of the classics in world literature. I received the spiral bound version for this review, but it is also available for purchase as a PDF file. This resource will be a wonderful addition to your homeschool as it fits perfectly with many curriculum choices and teaching styles. It is suitable for all ages.
You will find inside a chronological listing of writings, biographies, plays, recordings and films that reveal a panoramic view of our world's history. All of this information is formatted as a spreadsheet with the following column listings: description/time period, title of resource, author and approximate age/ability level.
I love the fact that you can actually use this resource as a world history/literature study guide throughout your homeschooling years beginning at Elementary and ending at High School! Hours of research and planning have already been completed for you!
The timeline is divided into the following time periods of world history:
Ancients (5000 BC - AD 400)

Preflood and Postflood Civilizations
Egypt (3000 - 2000 BC)
Greece (3000 - 431 BC)
Rome (509 BC - AD 476)
Dark Ages (Europe, c. 300-900)

Middle Ages (AD 400 - 1450)

Vikings (Scandinavia, Europe, 793-1066)
European Military Expansion (1000-1450)
Crusades (1095 - c. 1250)
Renaissance Period in Italy (1300-1500)

Renaissance and Reformation (1450-1850)

European Exploration and Colonization (1400-1600)
Protestant Reformation (15th century, Europe)
Elizabethan Period (United Kingdom, 1558-1603)
The New World (1607-1860s)
Age of Enlightenment (18th century, Europe)
Industrial Revolution (18th-19th centuries)
Westward Expansion (America, c. 1841)

The Modern World (1850-present)

American Civil War (1861-1865)
Progressive Era (United States, 1880s-1920s)
Machine Age (1900-1945)
The Post-Modern Era (1939 WWII-present)
Cold War Period (1945-1991)
Atomic Age (after 1945)
Space Age (after 1957)
Information Age (1970+)
My son loves history, so we had a great time going through the different time periods and making our selections.
Teaching with Games Set
is a fantastic way to get some fun in your child's daily learning! There are 25 game ideas for you to choose from. The recorded workshop gives you ideas on how to adapt the games to any subject in your homeschool. You can use these for any grade level too. There are two DVDS and one CD-ROM. DVD One has a running time of 70 minutes and DVD Two has a running time of 60 minutes.
We had a great time using the Wheel of Fortune game idea for my son's spelling words each week. It was a fun way for him to practice his spelling words. We used the Pictionary game idea for things we were learning about in History.
Everything you need such as game instructions and a few printables are included.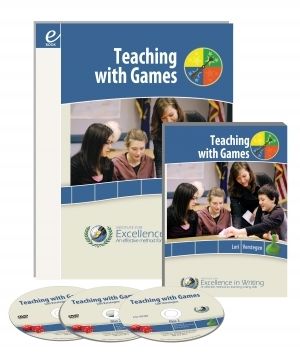 A Word Write Now
is a thematic thesaurus divided into organized word lists for character qualities and behavior traits. IEW has also divided the word lists even more by parts of speech. Each category of words are color coded by nouns, adjectives, verbs and adverbs. There's even a section for students to add their own words. It's 100 pages in full color and is spiral bound.
There are four sections of A Word Write Now:
Section A: Character Traits
Section B: Descriptive Words
Section C: Words for Movement and the Senses
Section D: Appendix
This is a great tool that's easy for my son to use. He has had trouble in the past with coming up with a variety of words for his writing assignments. A Word Write Now has been a welcome addition to our homeschool!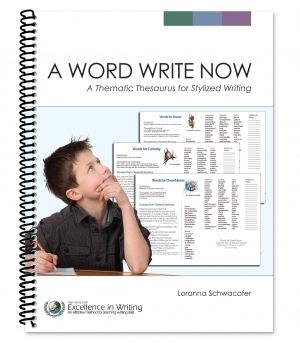 We have thoroughly enjoyed using these learning resources from IEW! They'll make a great addition to your homeschool too!
You can connect with the Institute for Excellence in Writing on the following social media outlets:
You can read more reviews from the Schoolhouse Review Crew simply by clicking on the image below.