Art is a subject in our homeschool that doesn't often get a lot of attention. At the beginning of our homeschool year, I did have my son work with chalk pastels and he created some lovely pictures that I still need to frame! Today I'm sharing with you our experience with
ARTistic Pursuits
, an art curriculum developed by Brenda Ellis and Daniel D. Ellis. I was given the
Elementary 4-5, Book 1: The Elements of Art and Composition
for this review.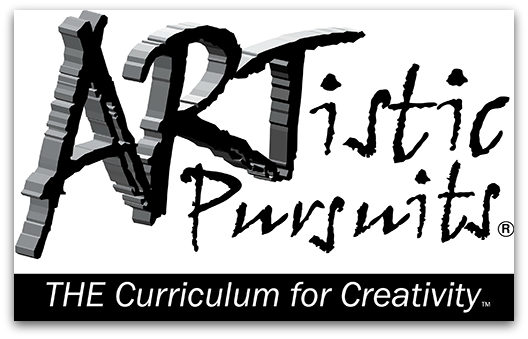 Meet ARTistic Pursuits
ARTistic Pursuits provides a wonderful homeschool art program that encourages children to become visually aware of the beauty of the world through developing their skills of observation.
You can connect with ARTistic Pursuits on
Facebook
.
Children as young as age 3 can begin using ARTistic Pursuits! The following is a list of the books available and the ages specified for each one. Sample lesson pages of all the books included in this art program are available for viewing on the website. The price of each book is $47.95.

Art Books Available from ARTistic Pursuits
Preschool, Ages 3-5
Early Elementary, Grades K-3
Book One: Introduction to the Visual Arts
Book Two: Stories of Artists and Their Art
Book Three: Modern Painting and Sculpture
Elementary, Grades 4-5
Book One: The Elements of Art and Composition
Book Two: Color and Composition
Middle School, Grades 6-8
Book One: The Elements of Art and Composition
Book Two: Color and Composition
Senior High, Grades 9-12
Book One: The Elements of Art and Composition
Book Two: Color and Composition
Sculpture Books, Ages 11-18
Sculpture Technique, Construct
Sculpture Technique, Model
An art supply list is given in each book that tells you the art supplies needed for each unit. This is a very helpful list!
There is a "Getting Started...What Parents Want to Know" page listed in each book that explains to parents the different aspects featured in the lessons of the book. A similar page, "Getting Started...What Students Want to Know," is included for the students which gives an overview of what is expected of them.
Our Experience with Elementary 4-5 Book One
We worked on Unit 1 Space and Unit 2 Line and Shape during the review period. We took two weeks to complete each unit.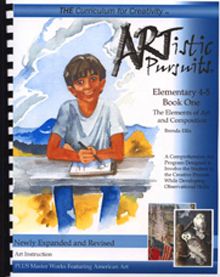 Our schedule went like this:
Week 1
Day 1, Lesson 1: Vocabulary and Creative Exercise page - here we learned which topic we were focusing on and given our objective in the lesson.
Day 2, Lesson 2: Art Appreciation page - here we were shown the how the topic is used in artwork and learned about artists and the time period in which they lived.
Day 3: Continued learning about artists and viewing artwork that used the topic we were learning about. I searched the internet for artists and we looked at their artwork.
Day 4, Lesson 3: Techniques - learned how to use the art materials, which in our case was ebony pencils, and made an original piece of artwork.
Day 5, Lesson 4: Application - this is when the final project is assigned. The vocabulary from the unit is reviewed, a list of supplies needed, and a list of drawing ideas to choose the final project from.
Week 2
We used this week to work on the final project.
My son and I really enjoyed having art each day in our homeschool. It was nice to be able to use this art curriculum to get art back into our homeschool!
My Opinion of ARTistic Pursuits
My son and I are very pleased with ARTistic Pursuits!
The book has a nice layout that flows well.
I appreciate the user-friendly wording used in the text that made it easy for my son and I to understand what we were learning.
Step-by-step guidance is given for the student learning to draw.
The list of supplies that is needed for each unit helps me to stay on track of what I need to buy before starting a new unit.
ARTistic Pursuits is perfect for teaching art - a subject that I have no idea how to teach. I highly recommend all homeschoolers to get into art with ARTistic Pursuits!