Science is a subject in our homeschool that I always seem to be trying to find something new in which to use. We mostly use textbooks in our study of science, along with living books. That is why I was excited about the opportunity to do a review for
Supercharged Science
. I was given an
e-Science Premium Membership
which I used as part of our homeschool science curriculum with my son.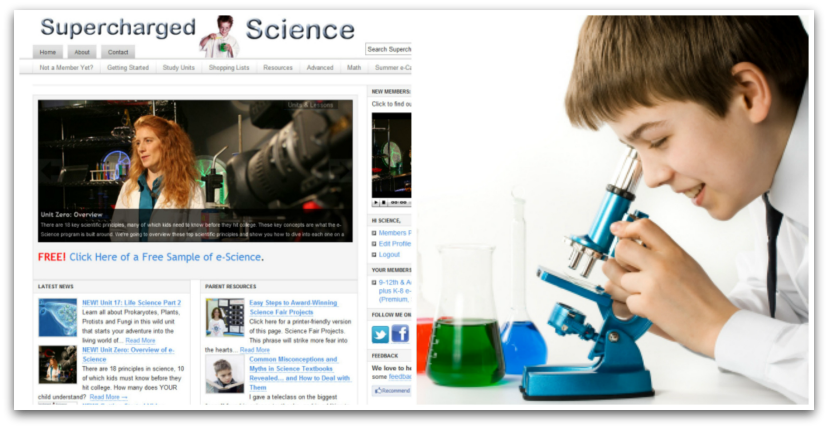 What's Included with an E-Science Premium Membership to Supercharged Science?
Supercharged Science is an online science curriculum created by Aurora Lipper that can easily stand alone in my opinion or be used alongside your current homeschool science curriculum. You will need a computer and internet access, plus the supplies for the experiments and activities.
Here is a list of everything that is included with an E-Science Premium Membership:
Videos of Aurora teaching real science - just like in an actual classroom. She is very thorough in her teaching and experiments.
Instant access to hundreds of science activities, experiments and projects with textbook type reading to support the material in her videos. You can use this online science program as your homeschool science curriculum or in conjunction with your current science curriculum.
Hands-on activities and experiments that are taught step-by-step through videos that guide you and your kid(s) through the activity or experiment.
Homework exercises/quizzes so you can see what your kid(s) are really learning.
A live tele-class every few weeks where you can connect with Aurora personally.
Parent resources are available to help you give your kids the best science education they can get.
A place to ask Aurora questions is available on the Supercharged Science website.
Recordings of everything so you and your kids can do the program on whatever schedule and at whatever pace suits your homeschool.
Each month you will be given access to an additional 1-2 units (60-80 experiments).
There are over 800 activities and experiments total in e-Science!
What is the Intended Age Range for Supercharged Science?
Supercharged Science is intended for all grade levels (K-12). Parental involvement will be very heavy for elementary grades in my opinion. It's also my opinion that a fairly reasonable amount of help will be required from parents as well for middle school aged children. Homeschool students in high school should be able to do this program on their own if they have a strong background in and love of science.
What is the Cost of an E-Science Premium Membership?
For the K-8 section, the price is $37 per month; and $57 per month for the expanded 9-12th grade material which Aurora says is good for advanced 5-8 graders too.
How We Used Supercharged Science
Since we already are into another science textbook, I browsed through the 20 units that I had access to on Supercharged Science with my e-Science premium membership. I selected lessons to work on during this review that we recently completed in our current science textbook that focuses on the days of creation.
You can browse Supercharged Science by Grade Level.
You can also browse Supercharged Science by available Units.
We chose to do the Astronomy lessons in Unit 7 of Astrophysics. Once we made our choice, I then printed off the textbook reading that was provided as a PDF file.
One of the experiments that we did for a lesson on "Star Charting" showed us how to chart a constellation in the night sky. This was lots of fun! Clearly defined directions, a video, and a supply list are always given for the experiments.
Star Charting Experiment Online Webpage
Another experiment we enjoyed in the Astronomy lessons was a lesson on "Magnetic Tornadoes" where Aurora demonstrated in a video how to make a magnetic tornado in two clear plastic 2-liter bottles. This lab was a physical model of what happens on Mercury when two magnetic fields collide and form magnetic tornadoes. Very cool!
And here's our video of how our experiment turned out with the magnetic tornado. It took a couple of good shakes to get the "tornado" going, but once it got started Caleb and I both thought it was pretty awesome!
My Thoughts on Supercharged Science
There is a wealth of information available at Supercharged Science. I personally had an overwhelmed feeling when I first logged on with our e-Science premium membership. First impressions count for a lot, and I really wanted to enjoy my experience with Supercharged Science. Another factor in my experience is the special needs of my son. I'm sure others will LOVE the site (and it is great!), but science just isn't something I focus on a lot in our homeschool with my son's special needs. The focus it takes for science with all the reading and experiments goes WAY beyond his attention span capabilities. Because of this, he quickly loses interest because of the amount of in-depth and analytical study science requires. I managed to browse through all the available units and narrow my choice down to a few that I thought he would enjoy and that we could use as reinforcement to the studies we have done so far in our science textbook.
Although we struggled through this review because of the special needs of my son, I think this is a very strong science program that is a great online science option for homeschoolers to use for their homeschool science curriculum. There is a plethora of material available on the Supercharged Science website to carry your student(s) through their years of homeschool science studies. You know your child's strengths and weaknesses. With that in mind, another great option that Aurora gives everyone who comes to Supercharged Science is a money-back guarantee in which she gives free access to all the lessons for 30 days so that you can make your own informed decision. If after the 30 day trial you realize that her program is not for you, she will give you your money back with no questions asked. That is excellent customer service for us as homeschoolers having to be very careful in how we budget our homeschool expenses and our monthly income.
I encourage you to connect with Supercharged Science on
Facebook
,
Twitter
,
YouTube
,
Pinterest
,
Google +
and on Aurora's
blog
. Aurora is excited about what she does and it comes through in her video presentations and email notices. Most importantly, her excitement and friendly attitude, brought a ray of sunshine in our homeschool experience with Supercharged Science!
Want to try it out for yourself? Aurora has generously provided a
complete mini-program for FREE
to my readers. It contains a small sample of science activities and projects taken from the e-Science program. Try it out with your kids today!