Stacy Farrell of
the
Home School Adventure Co.
is the creator of resources that help to equip parents to instruct their children within the guidelines of loving the Lord God with all their heart, soul, and mind.
I was excited to be able to review one of their many wonderful resources,
Philippians in 28 Weeks
.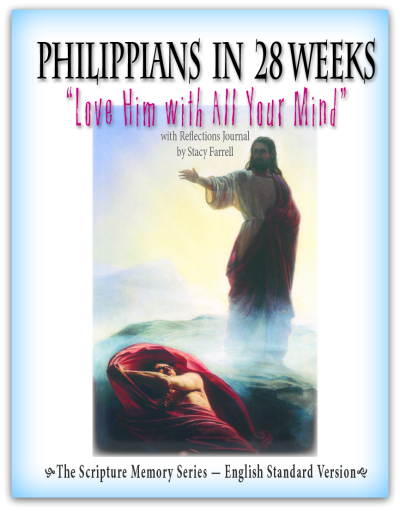 What is Philippians in 28 Weeks?
This is a wonderful resource to help guide users to memorize the book of Philippians in 28 weeks. It comes in ESV or KJV versions. The price for the print edition is $28.95 and is available in both ESV or KJV. The price for the ebook option is $14.95. The ebook option is only available in the ESV. The memory cards (ESV) and instructions are sold separately for $9.95.
Age Range of Philippians in 28 Weeks
For ages 9-11, this resource is best used as a read aloud followed by discussion as a family. For ages 12 and up, Philippians in 28 Weeks is also great for family discussion or just with parental/teacher guidance. High schoolers can easily use this on their own.
My Thoughts
I am a big advocate for memorizing Scripture. This was the first time I've attempted to memorize an entire book in the Bible. I love the tools Home School Adventure Co. has provided in Philippians in 28 Weeks to help individuals and families memorize God's Word.
I received the ESV ebook version for my review. I printed off the ebook and put it in a 3 ring binder. I also printed off the memory cards. I will be laminating these and placing them on a ring so that they will last as we continue through these 28 weeks.
Materials for memorizing Philippians in 28 Weeks
The 5 step process for memorizing Scripture in Philippians in 28 Weeks has been very helpful!
Read
Record
Repeat
Review
Recite
This simple approach uses
Bible memory cards
to present Philippians in manageable portions,
copywork verses
that help get the verses in your mind as you copy them on paper,
journal questions
that ask though-provoking questions to help apply the verses to our lives,
weekly reflections
to help cement what we've discussed and learned during the week,
recitation charts
to help test our retention of the verses we've learned, and a tracking tool called
"The Log"
that is a tracking tool you can use if you so desire. All of these tools are provided in the book to ensure enough repetition of the scriptures to help anyone memorize Philippians.
My son and I have enjoyed using Philippians in 28 Weeks. It is very important for me to help my son memorize Scripture. We were able to incorporate Philippians in 28 Weeks as our Bible curriculum in our homeschool. We read for each day, did the copywork verses, and answered the journal questions together. It has been a wonderful spiritual journey for us both to work on together.
Home School Adventure Co. has provided a terrific resource for any family to memorize Philippians together. Stacy is offering 10% off any download purchase through May 15, 2014. The code is: CREW-10.
You can connect with Home School Adventure Co. on the following social media outlets.
Facebook:
https://www.facebook.com/HomeSchoolAdventureCo
Twitter:
http://twitter.com/HomeSchoolAdven
Pinterest:
http://pinterest.com/HomeSchoolAdven
Google+:
https://plus.google.com/u/0/b/115241518288669984312/+Homeschooladventure/
Instagram:
http://instagram.com/HomeSchoolAdven
We have been given a responsibility to train our children in the Lord. The resources available from Home School Adventure Co. can help us fulfill this call as parents.
Walking in His Grace,
Laurie