I was excited when the opportunity arose to do a review for
Apologia Educational Ministries
. This review covers the products in the book
What on Earth Can I Do?
, the fourth volume in the What We Believe series which is written with a Christian worldview.
Apologia has teamed with Summit Ministries in the development of the What We Believe Series. The four books in this series are wonderful tools we can use to help teach our children the essential beliefs of our Christian faith, as well as helping them learn how to use Scripture as a lens through which to view the world around them.
The products we are enjoying in our homeschool for this review of book four,
What on Earth Can I Do?
, include the following: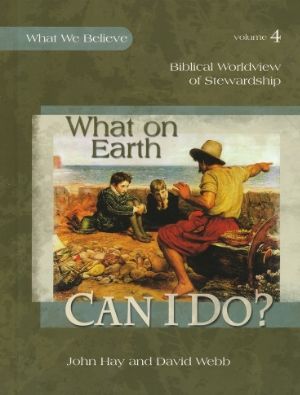 What on Earth Can I Do?
(hardback book) $39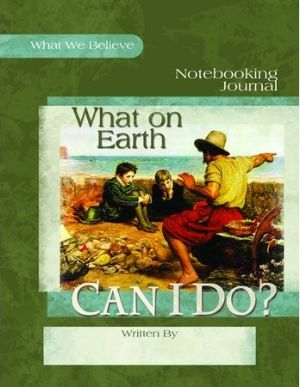 What on Earth Can I Do? Notebooking Journal
$24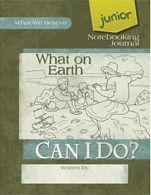 What on Earth Can I Do? Junior Notebooking Journal
$24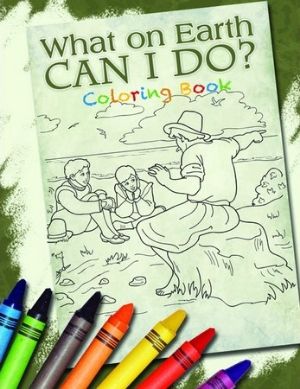 What on Earth Can I Do? Coloring Book
$8
What You'll Find in What on Earth Can I Do?
The lessons included in this fourth volume of the What We Believe series will help your child understand what it means to be a "good and faithful servant" of God (Matthew 25:23). There are a total of eight lessons:
Your Story or God's Story?

Who Put You in Charge?

Will You Be Found Faithful?

Where is Your Treasure?

Where Does Your Time Go?

Whose Life Is It Anyway?

Why Isn't It Easy Being Green?

What Will Happen When the Master Returns?
The goal of this study is to help our children choose to put God first in every area of their lives. The ideal age for this series is Grades 1-6. The text is written directly to the child using a conversational, engaging style that will make the study of God's word exciting and memorable. It is recommended that you present the lessons in the order that they appear inside the book because each lesson builds on the ideas presented in the previous lessons.
The notebooking journal, junior notebooking journal, and coloring book are companion resources that help to create an environment in your homeschool where learning is fun and enjoyable. The notebooking journals are a fun tool to help your child capture in a personalized way the truths they have learned in what will become a beautiful keepsake. Included in each journal are lessons plans for you, all of the "Make a Note of It" assignments from the book (children are asked to write about what they've learned or share an experience that relates to the lesson), puzzles, mini books, additional pages for taking notes, as well as pages called Find Out More which includes activities, songs, and reading lists to further enhance your study.
For younger children, Apologia has created a 64-page companion coloring book to keep their little hands busy while listening to the lesson. Each picture included in the coloring book depicts a teaching or story included in the lesson that will help to reinforce what your child is learning.
What on Earth Can I Do? is a wonderful homeschool resource that you and your children will enjoy.
Each lesson has the following key sections:
The Big Idea: An introduction of the main topic of the lesson and a brief overview of what your child has learned up to this point.
What You Will Do: The learning objectives for the lesson.
Think About It: Thought-provoking questions that dig deeper into the short story and are used to measure your child's comprehension.
Words You Need to Know: Vocabulary words in the lesson your child needs to know. They can write the definitions in their notebooking journal section for vocabulary.
Hide It in Your Heart: Two specific Bible memory verses are included in each lesson that your child can write in their notebooking journal.
Integrated Learning: Throughout the text interesting articles related to the main text of the lesson are provided which are designed to help your child pursue the book's ideas and concepts across the subjects of art, math, science, history, and more.
What Should I Do?: This section highlights the Godly character trait that your child should demonstrate in their own life as a response to what they've learned in the lesson. Tools are given here to help your child think about how to apply the lesson to their lives.
Prayer: The main body of each lesson is concluded with a prayer intended to help children acknowledge the gifts of God and thank Him for all He has done.
Parables of Jesus: The final part of each lesson is a story adapted from a teaching story told by Jesus.
Going Deeper: Questions that encourage your child to think about the parables of Christ and what they mean for us today.
House of Truth: This tool is a hands-on memory aid that helps to give children a concrete way of thinking about their lives within the kingdom of God. It's a visual model that can either be drawn in your child's notebooking journal, or can actually be constructed with Legos. Four of the lessons end with the addition of a new part of the House of Truth. Constructed on step at a time, as new concepts are learned, the foundation, walls, and roof of the house are added.
How We Use What on Earth Can I Do?
My son and I used What on Earth Can I Do? in our homeschool four days a week. I love that the lesson plans are included in the notebooking journal. I use these lesson plans to help keep us on track through our study.
First we do the daily reading together on the couch in our living room. Sprinkled throughout the pages of the book are the key sections I referenced above that we work on together in the Notebooking Journal after our reading time. You certainly don't have to do everything that is listed, and we don't just because my son quickly tires of writing. To help with this, at times I would have him dictate his answers to me and I would do the writing. He enjoyed the word searches and the crossword puzzles in the notebooking journal.
My Opinion of Apologia Educational Ministries: What on Earth Can I Do?
I really love when lesson plans are included in the book! Apologia has included lesson plans that are flexible and adaptable to my family's needs. Some of the lessons have activities that require advance planning on my part. A list of materials is provided so that I can be prepared ahead of time for the activity.
I also appreciate how the
Apologia Educational Ministries
website provides additional resources that will help in teaching this course. You will find the link and password in the textbook in the introductory pages. It's a valuable source of information to help us succeed in our teaching of their course.
You can connect with Apologia Educational Ministries on the following social media outlets:
This study will help them choose to put God first in every area of their lives based on these biblical truths: God owns all things because He created and sustains all things; He has entrusted me with certain gifts and wants me to use these gifts for His glory; I can honor God by using my money and possessions wisely; I can glorify Him by investing my time and talents wisely; my body is not my own but has been bought at a price; God expects me to care for His creation; God will reward me for my faithfulness. - See more at:
http://shop.apologia.com/what-on-earth-can-i-do/338-what-on-earth-can-i-do.html
I want my son to grow up with a Biblical worldview. I also want him to be able to give account for the hope that he has within him. It is our job as parents to teach our children Biblical truth that will help them walk as lights in this dark world. Apologia Educational Ministries offers products to help me achieve these goals. I have used their Elementary Science series, and was thrilled to be able to use What on Earth Can I Do?, book four in their What We Believe series. I definitely want to use the other three books included in this series when we are finished with this book. I highly recommend all of the products of Apologia Educational Ministries to families who want to build a Biblical worldview in the lives of their children. The books in the What We Believe series can be used as a homeschool resource, and I think they would also make great tools for family devotions where mom and dad can lead together.
See what others on the TOS Review Crew thought about Apologia Educational Ministries' What on Earth Can I Do? Simply click on the image below.