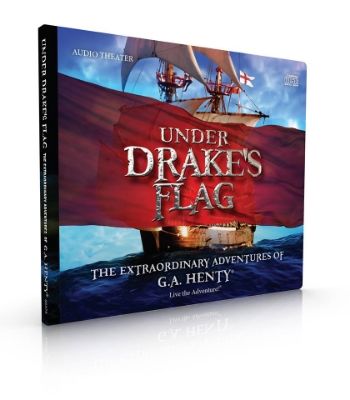 Ahoy, matey!! I am excited to bring to you today a review of
Under Drake's Flag
by
Heirloom Audio Productions
. This two hour audio drama adventure is ideal for children ages 6 all the way up to adults. My son and I have enjoyed listening to these swashbuckling adventures as part of our daily homeschool adventure!
This new audio drama adventure is from the same creative team that have given us Adventures in Odyssey and Lamplighter Theatre. Strap on your life jacket and get ready to take to the high seas in this fast-paced audio book dramatization based on the novel by G.A. Henty! All you need is any device capable of playing a CD!
Set sail with young Ned Hawkshaw on the greatest sea adventure a young boy could ever dream of with Sir Frances Drake, one of the most celebrated heroes in history! Ned's sea adventures include fighting off a shark, surviving a shipwreck, fierce battles on the sea and on the land, and at last coming head-to-head in a battle with the Spanish Inquisition. Faith conquers fear in these heart-pounding adventures that lead Ned from boyhood into manhood.
Courage
,
Conviction
, and
Godly Character
are strong morals that I want to instill in my son. You will find these themes throughout Under Drake's Flag. It is wholesome entertainment for the entire family!
There is even a free
Adventure Study Guide
included in the 2-CD set that you can use to help your children understand the storyline of Under Drake's Flag and the principles contained throughout the story.
A recommended reading list for children who want to learn more about Sir Frances Drake and three short Bible studies focusing on character are also included in the
Complete E-Study Guide
which you will receive as a PDF when you order the 2-CD set.
Each of the questions included in the Adventure Study Guide and the Complete E-Study Guide contains three parts:
Listening Well
,
Thinking Further
, and
Defining Words
.
Listening Well questions are to help you see what your child remembers. If your child doesn't know the answer, simply listen to the CD again to refresh your child's memory. Numbered chapters on the CD make it easy to stop and then resume where you left off or go back to a certain chapter if your child has trouble answering any of the Listening Well questions.
Thinking Further questions ask your child to think a little more by drawing conclusions from the actions of the characters in the story or to speculate about the intentions of the characters.
Defining Words give your child the opportunity to look up words in the dictionary that are from the story. This section will help strengthen your child's dictionary and vocabulary skills as well as help them in their understanding of the story.
You get 2 hours of audio drama on a 2-CD set plus the free Adventure Study Guide (and the PDF of the Complete E-Study Guide) for only $29.95 plus $6.95 for shipping and handling.
We loved listening to Under Drake's Flag! This year one of my main goals in our homeschool was to focus on character with my 13-year old son. The character lessons found in Under Drake's Flag have helped me do that.
You can find Under Drake's Flag on
Facebook
to learn more about this adventure on the high sea!
Check out more reviews by clicking on the image below!