Institute for Excellence in Writing (IEW)
has a heart for special needs children. The incremental pacing and the models of writing provided in their writing curriculum gives the clear and concrete direction special needs children need in order to be successful in finding the words to write. My son has Asperger's Syndrome, OCD, and ADD and has always struggled with writing in our homeschool. I was so excited when the opportunity to review
Teaching Writing: Structure and Style, Student Writing Intensive Level A
came up with the TOS Review Crew.

Included in my special learners package were the following items:
1. Teaching Writing: Structure and Style, Second Edition (TWSS)
A newly updated and revised 12-DVD set containing over 14 hours of viewing time that systematically teaches the nine elements of structure and style of the IEW programs.
TWSS Seminar and Practicum Workbook - a syllabus and outline of the TWSS course including charts, word lists, samples, and more.
Premium Content Subscription - This is a 12-month online subscription allowing you to stream all the TWSS content, access to monthly training seminars, audio MP3 talks from Andrew Pudewa, and helpful PDF downloads.
2. Student Writing Intensive (SWI) Level A (3rd - 5th grade)
5 Instructional DVDs
Student Notebook
Student Handouts
Lesson suggestions for the teacher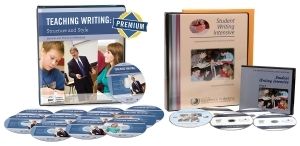 I was so excited when my IEW package was delivered! I have drooled over this writing curriculum for at least a couple of years. Every year at our homeschool conference, I always make a point to go by the IEW vendor booth. I've been waiting for the right time to introduce this writing curriculum that I have heard so many good things about to my son. His special learning needs are what first led to me IEW, as well as other moms who have raved about this homeschool curriculum for writing.
Now let me be honest and say that my son did not share in my excitement when our package arrived. His first question was, "Mom, what is that?" Trust me, it wasn't out of excitement...lol! I've tried other writing programs out there that claimed to be the best, but turned out to be a big flop for both of us.
I'm happy to say this has not been the case with the writing program from IEW. The SWI-Level A has been a great fit into our homeschool. I picked SWI-Level A because my son is on the 3rd-5th grade level in most subjects, so I thought it would be best for him to start IEW's writing program at the beginning level. The incremental pacing and models of writing have been so helpful and beneficial to my son. He watches the lesson on the DVD with me and does the required work on his student handout for that lesson. I'm there to guide him if he needs help.
As a homeschool mom, before IEW, I honestly had no clue how to teach my son about writing. Up until now, I have flip-flopped from this writing curriculum to that writing curriculum. Eventually both me and my son became overwhelmed. I just had to lay writing aside for a time in our homeschool.
That's another reason why I was so excited when this review came up for the TOS Review Crew. I needed just as much help to
teach
writing as my son needed help
learning
to write. I absolutely LOVE my Teaching Writing: Structure and Style Seminar and Practicum Workbook! I can sit down with my workbook and watch the applicable DVD ahead of time which helps me know how to teach the lesson to my son.
If you are a homeschool mom who is at the end of her rope when it comes to teaching writing in your homeschool, let me encourage you to look into Institute for Excellence in Writing. I think you'll be just as happy with your experience as we have been with ours.
You can connect with IEW on the following social media outlets:
You can read more TOS Reviews simply by clicking on the image below.