I love trying new things in our homeschool science studies!
Library and Educational Services
offers all of their products 30% - 70% off, and I recently had the opportunity to review two of their
Go Science DVDs
in our homeschool.
Go Science DVDs are seven in total and contain 80 science demonstrations by Ben Roy. Ben is the former director of a science program that was televised, and he teaches science methods at the University of Tennessee at Chattanooga. Each of the demonstrations points to our Creator God with a spiritual application to apply to our lives. These DVDs are recommended for ages 4-12. The price for each DVD is $8.97 - 40% off the list price of $14.95! You can get all 7 Go Science DVDs for $59.82 - 40% off the list price of $99.70. To view these DVDs you will need a T.V., a DVD player or a computer that has the capacity to play DVDs. If you want to do the science demonstrations with your kids (and trust me, you will!), there are certain supplies you'll need for each one, and Ben lets you know at the beginning of the demonstration what those supplies are. Teacher prep is minimal, but I do recommend that you view the science demonstration beforehand so that you can get a list of supplies you'll need and an idea of what you and your kids will be doing.
The two science volumes we received for this review of Go Science DVDs were:
Volume 6: Chemistry (Run time: 59 minutes)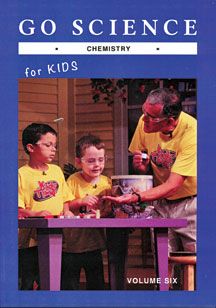 Volume 7: Engineering, Design, Flight (Run time: 56 minutes)
Other volumes included in these science demonstration videos are:
Volume 1: Sound, Gravity, Space (Run time: 78 minutes)
Volume 2: Life Science, Weather (Run time: 60 minutes)
Volume 3: Air (Run time: 55 minutes)
Volume 4: Motion, Friction, Electricity, Light (Run time: 55 minutes)
Volume 5: States of Matter, Water (Run time: 60 minutes)
Our Experience with Library and Educational Services and Go Science DVDs
I am so pleased to have discovered Library and Educational Services! I love their discount prices on homeschool curriculum! We have had so much fun with the Go Science DVDs. I love how Ben engages the live audience of children for his science demonstrations. He always uses three of the children as helpers for the demonstrations. Maxwell the dog is such a cute mascot that you'll see with the kids in the audience. He looks like our own dog! At the beginning of each demonstration Ben presents a science question that is answered by performing the science activity. I love how Ben always has a spiritual connection to God as our Creator at the end of every science demonstration and a life application that we can also discuss afterwards.
Here is a picture of our Leaning Tower of Lyra that we made in one of our science demonstrations. In their demonstration, Ben used eleven pieces of wood. We used VHS tapes. This science demonstration had the goal of finding the center of gravity. Ben talked about balance and gravity beforehand giving life examples of needing balance to ride a bike and to stand on one foot. In order to do that we have to find the center of gravity.
We were able to find the center of gravity and have these videos lean over our desk without falling!
You and your kids are going to love the science demonstrations Ben Roy has presented in these Go Science DVDs. I cannot wait to get them all! Ben makes learning science fun with Go Science DVDs. Are your kids on summer break and need something to beat the boredom blues? Get the Go Science DVDs and let them have fun with the demonstrations. They'll be having so much fun that they'll forget that their learning too!
Walking in His Grace,
Laurie
Read more reviews on Go Science DVDs from the TOS Crew by clicking on the image below.