What began as a 4th grade teacher's desire to help her students quickly learn their multiplication math facts, has blossomed into a full website of
Learning Wrap-ups
resources. Marion Stuart, the original creator of Learning Wrap-ups continues to closely supervise the addition of new products, such as the Learning Palette which originated in Germany, and has been adapted to fulfill the needs of young students here in America.
I was very interested when the opportunity arose to review Learning Wrap-ups. I was selected to review the full online family subscription to
LearningPalette.com
, an online product of Learning Wrap-ups.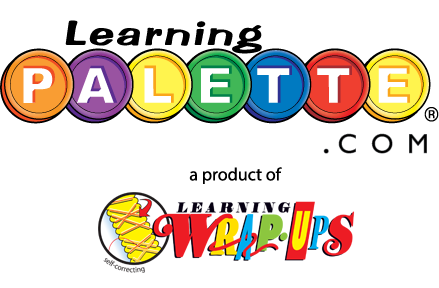 What You Need to Know about LearningPalette.com
Fully online educational program (You'll need an internet connection and computer.)
35 math titles
20 reading titles
These titles provide a total of 7,920 questions.
Correlated to the Common Core for Math and Reading (This factor is unfortunate to those of us who do not agree with Common Core standards.)
The following price options are available for a one year subscription:
One user is $25.00.
Up to five users is $60.00.
See the
price list and order form
for more information about signing up for your family. The company is offering a 20% discount for homeschooling families through May 31, 2015. Just use the coupon code HOMESCHOOL to get your discount! Nice!
Learning Palette has a free
online demo
that you can use to experience for yourself what it has to offer your child.
The recommended grade levels for use of the online Learning Palette are grades K-5.
Screenshot of the demo.
You can connect with Learning Wrap-ups on the following social media outlets:
How We Used the Online Learning Palette
It was so easy to use the Online Learning Palette alongside our homeschool reading and math lessons. I thought it was a fun way for my son to test his knowledge of reading and math concepts we had been working on. We logged in to our online learning palette 3-4 times a week to get a break from our regular reading and math lessons.
The reading palette grade levels ranged from basic to level 3 palette options that we could freely move through. We also could move through the different grade levels on the math palette which ranged from basic to level 5. There are progress reports available for the parent that show the average score per card, the average time it took to complete the card, and the total cards completed. This was helpful information to me that assisted me in preparing review lessons where needed. Immediate results on the actual card showed my son's correct/incorrect answers with the opportunity for my son to fix any incorrect answers. I love that we could go through the cards as many times as we needed to.
On each grade level of reading and math, you can click on the "Common Core" link that will bring up a PDF file containing all the concepts that will be covered on each card for the palette. We don't align ourselves with the common core, but this information was helpful to me in choosing what cards I would have my son work on. Some of the concepts, especially in math, we haven't covered yet so I didn't make him use those cards.
My Opinion of the Online Learning Palette
My son and I enjoy using the online learning palette. It fits fine with our current curriculum and in my opinion would work alongside any curriculum you are using. The online learning palette is a great addition to our homeschool that helps me see my son's progress in our reading and math lessons. It's a nice change for him that is visually stimulating and keeps his attention better than pencil and paper exercises that I normally use to test his knowledge of material that's been covered in our lessons.
The online learning palette would be a great option to use in order to keep your child's reading and math skills sharp over the summer too. It's non-threatening, gaming feel will help capture your child's attention on skills that matter and that you don't want them to lose over the summer break.
Click on the image below to read over reviews from the TOS Review Crew.