Are you looking for a fun way to bring the Bible to life for your kids? Look no further than the products available from
Wizzy Gizmo
! I was given
Audio Drama One: Who Created Everything?
to review in our home.

Audio Drama One: Who Created Everything?
This 36 minute audio drama leads children on an exploration of Genesis 1. Wizzy Gizmo is a brillant bluish-haired, knobby-knee inventor who creates all sorts of gadgets and gizmos. The Gizmovision is a most important invention and it's where all the adventures begin with
Audio Drama One: Who Created Evertyhing?
.
Olive, Eli (the new kid in Sunnyville), Summer and Thomas run to Wizzy Gizmo's workshop once they find out his latest invention is all finished. Wizzy explains to the kids how the Gizmovision creates a life-like world inside a bubble when a book is placed on top of it. After the kids all shout out their ideas of what book to use, Wizzy suggests to them to go all the way back to the very beginning and lays the Bible on top of the Gizmovision...then...well, you should really listen for yourself!
The Gizmovision
The story of creation is all laid out in a fun and exciting way. I love how science and the truths of the Bible are woven together throughout the unfolding of the creation story. Word definitions are given when necessary so that your youngest children will understand an unfamiliar word that may be spoken by the characters in the drama. There was only one occurrence in this drama, and the word definition was given in a fun and entertaining way that didn't cause an awkward break in the storyline.
There are wonderful songs throughout the drama story, including a song at the end that helps your children learn the order of the days of creation. There is a short Bible quiz at the end of the audio drama that is a great way to find out what your child remembers from the story. The Bible quiz can also be used to lead into teaching truths from the Bible that were shared in the audio drama. Following the Bible quiz, there are additional songs to listen to that can be enjoyed wherever you and your kids find yourselves listening to
Audio Drama One: Who Created Everything?
.
This audio drama is recommended for children ages 4-12, but I assure you, the whole family will love them! We enjoyed listening to it together as a family! All of the products available from Wizzy Gizmo were created by the founders, Justin Cummins and Chris Del Aguila, to help parents put Deuteronomy 6:5-6 into practice. You can listen to this audio drama on the CD player in your car as you are out and about with your kids, you can listen together as a family during family devotion time, you can listen in your homeschool or even let your children listen to the audio drama as a bedtime story! All you need to listen to this audio drama is a computer with a CD player or the CD player in your car as you're on-the-go with your kids. The price for this audio drama CD is $14.99. I can't wait for more audio dramas from Wizzy Gizmo!
Be sure to connect with Wizzy Gizmo on the following social media outlets so you don't miss any new products in the future: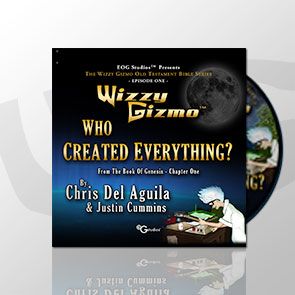 Check out the other Schoolhouse Review Crew posts on this product and others available from Wizzy Gizmo by clicking on the image below.