Essential Skills Advantage
is a complete online program for Reading and Language learning ideal for children in grades K-6, but it can also be very helpful as remedial work for your older students. As part of The Old Schoolhouse Review Crew, I was chosen to do a review of this program and have been given a one year subscription to their premium plan which I've used with my 13 year old son, so we fall into the category of remedial work with older students.
This online program for kids has been a great addition to our homeschool! My son loves to be on the computer, so why not let him learn while he's at it! It's also provided a break from the usual book learning that we've been using in our homeschool. More importantly, it has enabled me to go back and fill in some gaps in reading and language concepts with my son. We love the variety of concepts that we can choose from as we log in to our online education provided by Essential Skills Advantage. The wealth of learning activities makes me happy as his teacher, and it makes my son happy because he doesn't get so easily distracted and bored. There is always somewhere else within the reading program for him to go in order to keep learning.
I love that I can track my son's progress in the Parent Portal. The student information sections allows me to see what programs my son is working on. Next to each program, I can see more detailed information such as date and time stamps, his number of attempts at answering, or if he's mastered a concept. My son likes to see his progress too, and can do this by selecting the star button displayed on the screen to view his scores. He also has the progress bar that is displayed to show his overall progress within the unit.
Want to learn more about Essential Skills Advantage for yourself? Well, I hope you'll keep on reading to find out more and plus, you'll find two different huge savings offer at the end of this post!
Meet Essential Skills Advantage
Essential Skills Advantage has thousands of activities that are fun and engaging to help your child build their skills in reading comprehension, sight words, phonics, spelling, grammar, - everything your child needs for reading and language learning! You'll find fun writing activities, sight word activities, reading comprehension strategies, and so much more in this complete online learning program.
Here's their mission statement:
"To make a difference in eduction by providing affordable, technology-based solutions that motivate students, build their confidence, and allow them to achieve success."
You can connect with Essential Skills Advantage on the following social media outlets: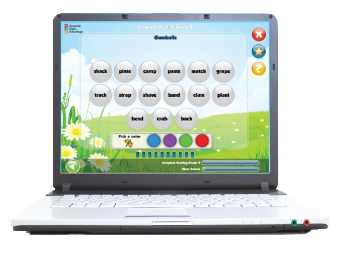 System Requirements for Using Essential Skills Advantage
This program is entirely online. You will need internet access for your computer that is Java Script enabled, Flash Player 10 or higher, and volume. At this time, ESA's programs are not compatible with iPad or Android tablets.
The Price for Essential Skills Advantage
ESA offers a 14-day free trial, then after that it is only $9.99 per month for their premium plan. They are generously providing a
50% coupon code
for the monthly membership fee on the premium plan for my readers.
The coupon code is
TOS50
and will be good through October 1. This 50% savings will stay with you as long as you are a premium member, making your monthly fee only $4.99 per month!
I'm excited to share with you that they have started a sponsored version of their program that is completely free! I appreciate this so very much because every little bit helps for homeschooling families - most of who, like us, are a one-income family. Go to
www.ESAlearning.com
to start your free subscription today.
Click on the image below to read more TOS Crew Reviews!