UberSmart Software
was created by homeschooling dad, David Kocur, after not be able to find anything he preferred for his own children who were ready to learn their addition and subtraction math facts.
UberSmart Math Facts
is the downloadable Windows based software program that David created and I was selected to review this product in our homeschool.
After receiving notification that I would be reviewing this product with my son, I contacted David by email because the name just grabbed my attention so much that I had to ask him how he came up with the name "UberSmart". Here was his reply which I think is totally awesome!
Hi Laurie,
It started with my family and I just throwing some ideas around. My goal
was to find a unique name that denoted quality, as so much software out
there is of poor quality. Eventually we settled on UberSoft (meaning
"super" software). A couple weeks after getting a DBA for UberSoft, I
discovered there was already a company in another country by that name.
They just weren't using ubersoft.com. After a little more thought and
research UberSoft morphed into UberSmart Software. I really like the name
because it can be taken two ways: Using the software will make you super
smart, or software that is super smart. In the case of UberSmart Math
Facts, I believe both meanings apply. But, I may be a bit biased. :)
Thanks for asking!
David Kocur
UberSmart Software
Well, our experience with UberSmart Math Facts definitely affirms that this software is super smart and is helping my son become super smart with his math facts! My son is thirteen, and due to special needs, has yet to master his math facts. UberSmart Math Facts has been a great addition to our daily math facts practice session in our homeschool. I can already see the light at the end of the tunnel for him as he is heading into mastering all of his addition math facts.
We'll definitely continue using this math software program through learning his subtraction, multiplication, and division math facts! We used UberSmart Math Facts as part of our daily math lessons. It fit in perfectly every day to our non-textbook math approach where I instead choose to focus on different math concepts that I feel Caleb is ready to learn.
Meet UberSmart Math Facts
UberSmart Math Facts teaches one number group at a time, starting with 0's, 1's, 2's, and so on up to the 9's with addition and subtraction. For multiplication and division, you have the option to set it up to go to 9's - 20's. Starting at these lower number groups, which are easy to learn, will give your child a sense of accomplishment right at the start AND it creates a healthy start in their learning environment for math facts mastery. What is great about this math facts software program is that you have the option to filter out mastered math facts so that your child can focus on the math facts they have yet to master.
You will need a Windows 7, 8, XP, or Vista operating system to use UberSmart Math Facts software on your computer. You are allowed to use it with eight or more students ranging in grades from K-6. The cost is very homeschool friendly at only $24.95! David is offering to my readers a special 30% discount off of this already low price. Simply enter "v4 Early Bird" in the discount code box on his
purchase page
.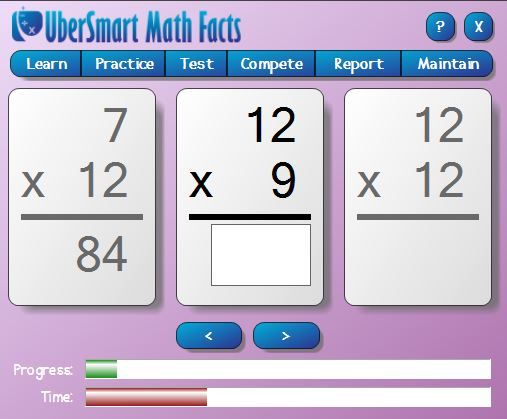 Click on the link below to read more UberSmart Math Facts reviews from the Schoolhouse Review Crew!